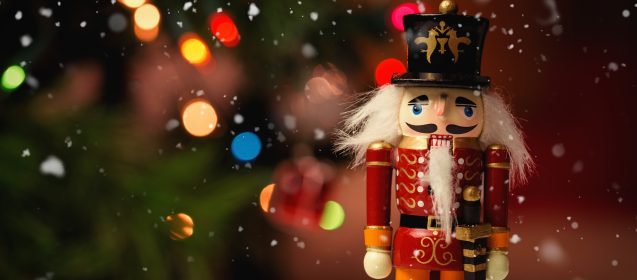 A Dancer's Holiday Favorite!
The Nutcracker ballet is universally known as a Christmas fixture. It is the magical scenery, sparkling tutus, twirling dancers, and the famous growing Christmas tree that have made this spectacular full length ballet into a holiday family tradition.
It takes just a few bars of Tchaikovsky's The Nutcracker score, to conjure up fond memories of long hours spent driving my own daughter to Nutcracker rehearsal, when she was a student at The Miami City Ballet school.
Dancers Work Hard For Perfection!
All the fantasy and dreams of sugarplum fairies, belies the hard work and sweat that actually goes into a Nutcracker performance. Long before dancers jete onto stage, there are months of rehearsal and preparation – their job after all is to hide the effort and display only the beauty and the fantasy that is The Nutcracker.
Nutcracker Season is a Marathon!
Nutcracker season is a marathon – beginning in early Fall with endless rehearsals and culminating with multiple performances around the Christmas holidays. Dancers in larger companies may perform multiple roles in each performance, often 6 to 7 days a week.
All this effort requires proper and well thought out fuel to power through all the grueling months of training and performances. Sugarplums alone just won't do the trick. 
So what DO dancers eat to get through Nutcracker season? Hint…It is not Sugarplums!
We were curious what dancers eat to get through a busy season, so we sat down with Dimensions Dance Theatre of Miami (DDTM) to get their take on performance fuel. DDTM is a new ballet company, founded by former Miami City Ballet principal dancers, Jennifer Kronenberg and Carlos Guerra.
What did we discover?
DDTM founding artistic director and former Miami City Ballet principal dancer, performed in her fair share of Nutcrackers performances. Dancing the principal role of Sugarplum Fairy, through consecutive performances, required carefully planned energy.
Jennifer stashed trail mix, bananas, yogurt, and some sort of protein bar (usually Luna or Cliff) in her dance bag to munch on during rehearsals and between shows.
Her secret anti-inflammatory weapon? Pineapple! Bromelain, a key component of pineapple, is a protein digesting enzyme known for its anti-inflammatory properties. Jennifer also noted that the fruit sugar provided the fuel needed to power through her most technical variations.
Dancing amongst the large Nutcracker cast of children, meant being exposed to lots of germs and runny noses. To stay her healthiest, Jennifer not only consumed a balanced diet, but found that supplementation with extra Vitamin C staved off potential colds.
---
a former dancer with The Miami City Ballet, says her favorite fuel is dried fruit. She goes so far as to say it is her healthier version of candy. We agree, dried fruit is definitely a better choice than candy!
Dietitian Tip:
Dried fruit is actually an excellent source of pre-work out fuel, it is easily digestible and a readily accesible form of sugar to power through a strenuous class, rehearsal or back to back performance. We do recommend watching portion size as dried fruit is more calorically dense than fresh.
---
favorite go to snacks are apples and granola bars.
Dietitian Tip:
We commend Claudia on her excellent choices. We do stress to always read food labels when selecting commercial bars. Granola bars can be notoriously high in added sugar. Too much sugar could cause mid performance blood sugar dips, which could hamper performance.
Opt for bars that are 5 grams of sugar or less and main ingredients are whole foods such as oats, nuts, seeds and dried fruit.
---
offers up some excellent options. His preferred fuel sources come from: almonds, bananas and peanut butter as well as carrots & celery dipped in hummus.
Dietitian Tip:
Stephan's fuel favs are all ones I recommend. He has combined heart healthy fats with easily digestible carbs which makes for a perfect combo when looking for a good pre-performance snack.
---
takes a natural route with kale and coconut water.
Dietitian Tip:
We love coconut water as a fuel source, it is a good source of potassium, phosphorus and sodium – perfect to prevent dehydration. Check labels to make sure the only ingredient is coconut water and not processed sugar.
---
goes old school with a snack of apples and peanut butter.
Dietitian Tip:
Apples and peanut butter are a perfect combo when looking for a pre-performance fuel source. Apples are an excellent source of fiber while the peanut butter is loaded healthy fat to promote satiety. Look for nut butters that do not contain any added sugar or salt. The more natural the better.
---
prefers a more substantial pre-performance meal. His go to choices are rice and beans and smoothies.
Dietitian Tip:
We love Natanael's selections, but recommend watching portion size and meal timing so as not to feel weighed down during the performance.
---
Performance Meal Timing Tips:
Always test your meal or snack before you jump on stage!
If looking for a pre-performance snack that works best for you, test it out in rehearsal or before class. Right before a performance is not the best time to try out a new food or drink. You do not know how your body will react – you may be left feeling sluggish, stuffed or without provide adequate fuel to make it through a lengthy performance such as The Nutcracker.
Food For Thought:
Lighter, more easily digestible pre performance snacks can be consumed 30 minutes to an hour before performance. Consume larger meals 2-3 hours before going on stage to allow for proper digestion.
Aim for a diet rich in muscle sparing protein. Lean protein from whole food sources is preferred over processed. Protein shakes can be a viable option between rehearsals and extra busy days.
Select carbohydrates that are whole grain and rich in fiber. Fruit, vegetables, brown rice, quinoa and whole wheat pasta are all excellent choices.
Put the fear of fat on the back burner. Fat promotes satiety, unsaturated fat contains anti-inflammatory properties and many high fat foods are good sources of anti-oxidants.
Liquid Energy – Yay or Nay?
Many of the dancers mentioned using coffee or energy drinks as a fuel source. Once thought to be dehydrating, research has indicated that moderate caffeine intake can counts towards overall daily fluid intake. Caffeine has also been tested as an ergogenic agent. Intake of coffee is associated with small improvements to performance, particularly endurance, which can be helpful during a full length ballet.
Test your reaction to coffee or energy drinks during rehearsals and class. A live performance is not the time to test caffeine's effect. Be aware of the high sugar content in some energy drinks and mixed coffee. Excess sugar can lead to sugar lows and a subsequent decline in performance ability.
While it is recommended to supplement lost fluid and electrolytes post performance, consider source before guzzling full sugar electrolyte replacements. Many contain up to 34 grams of sugar or 8-1/2 teaspoons sugar!
Think Anti-Inflammatory!
Incorporate anti-inflammatory food into your diet. Some of our favorites are:
Fruit: blueberries, strawberries, cherries, pineapple
Fatty fish: salmon, mackerel, tuna, sardines
Nuts & seeds: almonds, walnuts, chia seeds, pumpkin seeds
Whole grains, oats
Green leafy vegetables
Monounsaturated fatty acids: olive oil, flax seeds, avocado, nuts
Green tea
Dietitian Favorites:
Whip up a batch of my Almond Coconut Quinoa Puff Bars or High Omega Raw Bars for a simple solution to pre-performance fuel.
If time is an issue here are a few of our favorite pre-work out snacks:
Quick cook oats mixed with your favorite milk, nut butter and 1/2 small banana.

Low sugar KIND bars (5 grams of sugar or less)

Health Warrior Bars

8-inch whole wheat tortilla spread with nut butter

Banana or apple spread with nut butter

1/2 whole wheat bagel topped with a slice of cheese

Greek yogurt topped with fresh or frozen unsweetened fruit

Trail mix of raw nuts, pumpkin seeds and no sugar added dried fruit

A bowl of low sugar dry cereal with favorite milk
---
Meal Planning can be Complicated! Work with an Expert!
We work with ballet dancers and even offer a meal plan specifically geared towards a dancer's unique needs.
Check out our meal plans and mobile app HERE! Need a custom plan? We have you covered. Contact us HERE!