Quinoa, The Gluten Free Wonder Seed
Quinoa is a pseudo grain known for its high protein profile. This seed is naturally gluten free, making a perfect option for gluten intolerance. Separate from most grains, quinoa's protein composition is considered complete, meaning it possesses the 9 amino acids essential to support our dietary needs. 
A 1/2 cup of quinoa is 110 calories, 2 g fat, 3 g fiber and 4 g protein. A serving is rich in vitamin E, folate, iron and B vitamins. Quinoa is an excellent antioxidant, primarily for its vitamin E content.
Simple to prepare!
Quinoa is simple and quick to prepare. It can impart a bitter taste, so it is important to rinse the dry quinoa well prior to cooking if not purchased pre-rinsed. To cook: combine 1 cup of dry, rinsed quinoa with 1-3/4 cup water or low sodium broth. Bring to a gentle boil, cover and simmer for 15 minutes or until tender. Drain well and serve. 
Quinoa is so versatile!
Enjoy in different preparations:
Quinoa: red, white and black varieties; white is the most common.

Flakes: texture similar to oats; can substitute oats in a gluten-free recipes

Puffs: nutty taste with a texture reminiscent of rice crispy cereal

Flour: used to produce a variety of gluten free pasta
By combining high protein quinoa puffs with natural almond butter we upped the protein content. Using only 1/4 cup honey in 20 servings, breaks down to a mere 1/2 teaspoon per serving. Select 80% or greater high cacao chocolate for maximum antioxidant benefit.
Where can you buy quinoa puffs?
Quinoa puffs can be purchased online at Nuts.com or Amazon, but are available at Whole Foods or check you local grocer for availability. Only buy unflavored toasted quinoa. Do not confuse the ingredient used in this recipe with flavored quinoa puffs.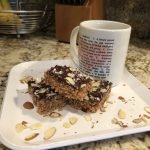 Almond Coconut Quinoa Puff Bars
Every time we would visit Disney World, one of my first stops would be the bakery on Main Street for a signature mouse ear crispy treat. We love our rice crispy treats, but don't love how high in sugar they are! We set out to develop a crispy dessert treat that was not only packed with flavor, but higher protein and lower in sugar. We topped ours off with high cacao chocolate to up the antioxidant value.
Stir up a batch today - let us know what you think in the comment below.
Keyword:
gluten free,, high protein, performance snack, pre work out, quinoa, quinoa puffs, snack
Ingredients
1/2

cup

almond butter

no sugar or salt added

2

tbsp

unsweetened flaked coconut

1/4

cup

honey

1/2

tsp

cinnamon

1/4

tsp

salt

1

tsp

vanilla extract

2-1/2

cups

quinoa puffs

2

ounces

dark chocolate

80% high cacao or greater

1

tbsp

coconut oil

additional slivered almonds

for topping

additional flaked coconut

for topping
Instructions
Line an 8 x 8 baking dish with parchment paper.

Place the almond butter, coconut, honey, cinnamon, salt and vanilla extract in a small saucepan.

Cook, on medium low, stirring often until combined well.

Add water by the tablespoon if mixture is too thick.

Spoon the quinoa mixture into the parchment paper. Press into baking dish with damp hands. Place in refrigerator to set.

Chop chocolate and add to a small saucepan with coconut oil.

Melt slowly over low heat, stirring frequently to avoid burning chocolate.

Remove quinoa puff bars from the refrigerator. Brush with melted chocolate. Sprinkle with additional almonds and flaked almonds.