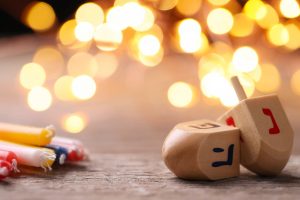 Hanukkah is a time to celebrate Family and Good Food!
Hanukkah, the festival of lights, is a celebration of the miracle of oil.
Many of the traditional foods served during the Hanukkah celebration, tend towards higher in fat.
While we love nothing more than a crispy latke fresh from a skillet of hot oil, we wanted to create a lighter version. Plus, who wants to spend the holiday in front of the stove cooking?
Less time cooking – more time celebrating!
Our sheet pan latkes are so simple to make and reduce prep and cook time as well as the mess of frying batch after batch of traditional potato pancakes.
The key is to place the potato mixture on a sheet pan that has been preheated in a 425° oven.
The result is a pan of crisp potato goodness in less time with considerable less fat calories.
Confused about which types of fat do not increase cholesterol or triglyceride levels. Which help lower your cholesterol and have anti-inflammatory properties? Grab our FREE fat infographic – Do You Need an Oil Change HERE.
Gluten Free Cooking Can Be Delicious!
Making this delicious recipe gluten free is essential in our family since a key family member was diagnosed with Celiac disease as an adult.
I have often replaced all-purpose flour with almond flour, but wanted to try a different, higher protein flour. While searching for arrowroot flour, I happened upon garbanzo bean flour. Typical substitution will be 3/4 cup to 1 cup all-purpose flour. I used 1/4 cup in this recipe to add an additional 6 grams of protein. It is impossible to even notice the substitution – the garbanzo bean flour proved an excellent gluten free flour option.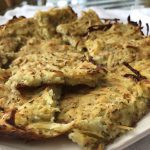 Sheet Pan Potato Latkes
All the flavor of a traditional potato latke with less mess and time spent in the kitchen!
Keyword:
chanukah, hanukkah, holiday, latke, lowfatcooking, onepancooking, potatolatke, potatopancake
Ingredients
6

medium potatoes

shredded

2

small onions

shredded

3

large eggs

1/4

cup

garbanzo bean flour

2

tsp

sea salt

1

tsp

black pepper

2

tsp

thyme

2

tsp

rosemary

olive oil

olive oil cooking spray
Instructions
Coat a medium baking sheet with olive oil.

Peel the potatoes and onion.

Shred using the grating blade on a food processor.

Place shredded potato and onion in a large colander.

Place baking sheet in oven to preheat for at least 5 minutes.

Whip eggs with all remaining ingredients except the oil in a large bowl.

Squeeze the potato and onion shreds in batches to remove excess moisture. The easiest method is to squeeze between your hands.

Add potato and onion to the eggs mixture, blend well.

Remove baking sheet from oven. Be careful it will be hot.

Spoon potato mixture onto baking sheet. Spread thinly to fit the entire baking sheet. Coat with olive oil spray.

Bake in oven for 30 to 35 minutes or until potato pancakes are browning.

If the top is not as as desired, place under broiler for 2 to 3 minutes.

Remove from oven and cut into 25 to 30 pieces depending on how large you prefer your latkes.

Serve topped with unsweetened applesauce, sour cream or Greek yogurt.